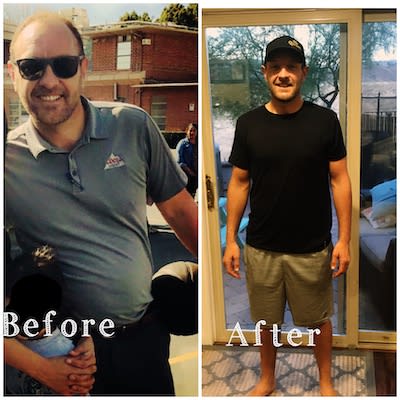 When I first signed up and started this 6 week challenge I started with a 30 minute workout that left me sore and questioning what I just got myself in. I was feeling good for the first couple days but didn't know how I was going to feel and how the meal plan was gonna go for me for 6 weeks. Im a picky eater (hate vegetables) but talked with Rod and we figured out what could work for me. Next thing, I'm losing weight and feeling really good , working out for 30 minutes 3x a week. By the 3rd week it become a routine in making a healthy breakfast, lunch and dinner and following the plan. I've always liked to exercise at the gym but here it's different and they incorporate a lot of things that work out every muscle in your body.
I appreciated having motivational texts from Rod and Seamus every other morning to start my day and get me fired up to where I wanted to be. Even though the challenge is over they still check in with me and make sure I'm still accomplishing what I want to do or what I want to work on going forward.
As I wrapped up my experience on this 6 week challenge I have noticed I have more energy during the day, and in a better mood. I've basically had to buy new pants and belts because I lost so much weight.
I love waking up early every day to make my steel cut oatmeal. It's still a shock to me I lost 20 pounds and over 13.4 lbs of body fat, down 2.6 BMI, down 6% Body fat, down 2.5 muscle mass. I'm still motivated to keep it going! #xfitcommit